Taking Your Business From
" Where experience
meets expertise "
At Comm Sutra, we take pride in being a start-up that supports other emerging businesses. Founded in 2013 by a former business journalist, Comm Sutra is a boutique image consultancy focused on the start-up ecosystem. We help young businesses define and achieve their communication goals in line with their entrepreneurial philosophy.
Our stories are woven in a way that they get people to take notice and take notice fast. We incorporate the art & science of both, traditional and modern-day public relations to offer a greater impact for companies seeking visibility and relevance in today's VUCA world. We understand each business has its own nuances and we offer customised solutions keeping those in mind.
" A team that boxes together,
stays together "
No. of years - 15 years

Companies - Economics Times, CNBC Television Eighteen,
Nirmal Lifestyle
Mother of dragons and Khaleesi of Comm Sutra, Chhavi knows when to unleash the dragons and when to rein them in. She's a straight-shooter who would rather please with work than words. While branded for life, she's no devil in Prada. Shopaholic by birth, workaholic by choice she leaves nothing up to chance when it comes to her clients. From being a story chaser to a storyteller, she owns a seat at both the tables.
With Chhavi on your side, winter's never coming.
No. of years - 7 years

Sectors - Cybersecurity, Retail, Consumer, Tech, HR

Companies - U Channel, Perfect Relations, Reginox, Habios
Ranging from being the Ace of Spades to morphing into anything that is required to fit into a sequence, The Joker's talent runs wild! Just like a Joker in a pack of cards, I blend into the narrative and make teams win.
​
From being an electronics engineer to working across production, events, anchoring, marketing, digital media and PR, I'm ever so curious about the infinite possibilities before me.
​
I look to explore further, bring in the blazing fun guns and pull a rabbit out of the hat to change situations in one's favour.
"My blood group is T(ea) +ve"
No. of years - 6 years

Sectors - EdTech, Lifestyle, Entertainment

Companies - CB World Entertainment, YB Thinkers Communications
I have the superpower of brewing - from ideas to tea. While curiosity killed the cat, it has only made me wiser and better. If any work comes my way, it's done, no matter what. (by hook, not so much crook.)
​
A native Cynophobic turned dog lover, Comm Sutra has changed me for the better. If you value fresh ideas, like to have work done on time, enjoy poor jokes, I'm your go-to person.
"Leaving a sparkle wherever I go."
No. of years - 5 years

Sectors - FMCG, Retail, Tech

Companies - Synergy, Communicate India, Tute Consult
Just like a Unicorn, I am unique, energetic, and of course a little too good to be true. I make the team glow even on their dull days by making them a nice blend of coffee over some gossip.
Armed with a Journalism degree, I'm a Public Relations Specialist striving to be a legend. I'm the in-house fit-opedia, your one-stop-shop for all lifestyle and fitness trends. I do things that I believe in and for the causes that I associate with.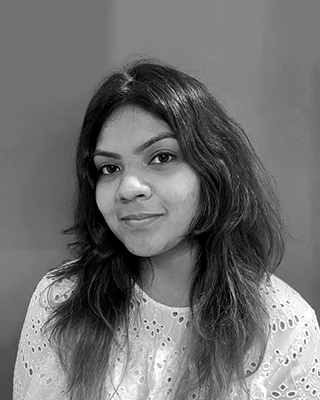 P.S. If I don't answer calls, DM me on Instagram.
Being a true feminist at heart, it was fate (or a little bit of wishful thinking) that I found home in Comm Sutra with an all-women's team. A finance student turned communicator, I'm the diversity quota and representative of Gen Z's at Comm Sutra. My number crunching skills coupled with my interest in content makes me the most potent communicator at work.
​
When I'm done with the days' worth of work, I like to transform into wonder woman to put MCPs into their places.
Spreading happiness since 2018
They say my name is inspired from #GameOfThrones.
​
Puhlease… I'm a paw-some four-legged hooman.
​
I do not hold-the-door but I sure hold the team together. No doubt I'm the "Employee of the Month" every month
" When rubber meets the road,
delivery better be good "
External Communications:

media strategy, media relations, online influencer management, industry visibility for founders and the company, media partnerships,

regional media engagement
Crisis communication:

situation analysis, plan of action and taking control of the narrative
Content:

authored article, thought leadership pieces, press releases, company profile pitch, digital and online content
Media Training:

media familiarisation, spokesperson training, on-camera drills & dealing

with the media
We're committed to telling your story your way. Our mission is to enable start-ups to inspire the change they set out to, by addressing their every communication, media and image building needs. We blend the complexities of your business with our art of communication to reach out to your audience in a language they understand.
" One is known by

the company
they keep,

this is ours… "
Dismissing ideas? Not our thing. We build on them to find the right alignment. We are proud of our diverse roster of companies spread across the start-up ecosystem that are more like partners than clients.